---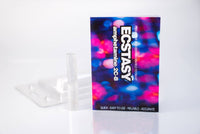 Sale
This pack contains an easy, single-use kit that can help detect substances and dangerous adulterants often found in MDMA and 2-CB – including MDA, MDE, MBDB, DXM, Amphetamine plus also DOB, DOI, Methylone, Butylone, Naphyrone, Cathinones and Opiates.
This kit can test Pills and MDMA Crystals 

The street-level contents of these substances fluctuate hugely and are dependent on many market factors. This thirty second test can help identify the unexpected contents of a sample, and inspire more informed decisions. Stay safe out there.

INSTRUCTIONS FOR USE
Each kit contains a glass ampoule – inside will be a chemical reagent absorbed in silica gel.

You will also find an information sheet, instructions, and colour chart. This chart will help you identify your substance's possible contents.

Add a small sample of your substance to the chemical inside the ampoule. A colour change will occur if a reaction takes place.

Compare the colour to the chart included on the instructions within the package. This will indicate the sample's possible contents. 
Products are shipped First Class via Royal Mail.
Expect between 1 - 3 working days for delivery.
Next day delivery options available (Order before 2PM)
We Ship Worldwide
All kits will be packaged and shipped discreetly.

Please note: PR does not advocate the use or sale of illegal drugs. Our single-use chemical reagents kits should only be used as a guide and only for research purposes. For more comprehensive scrutiny,  please send your substance for lab analysis to WEDINOS, DrugsData or Energy Control International.